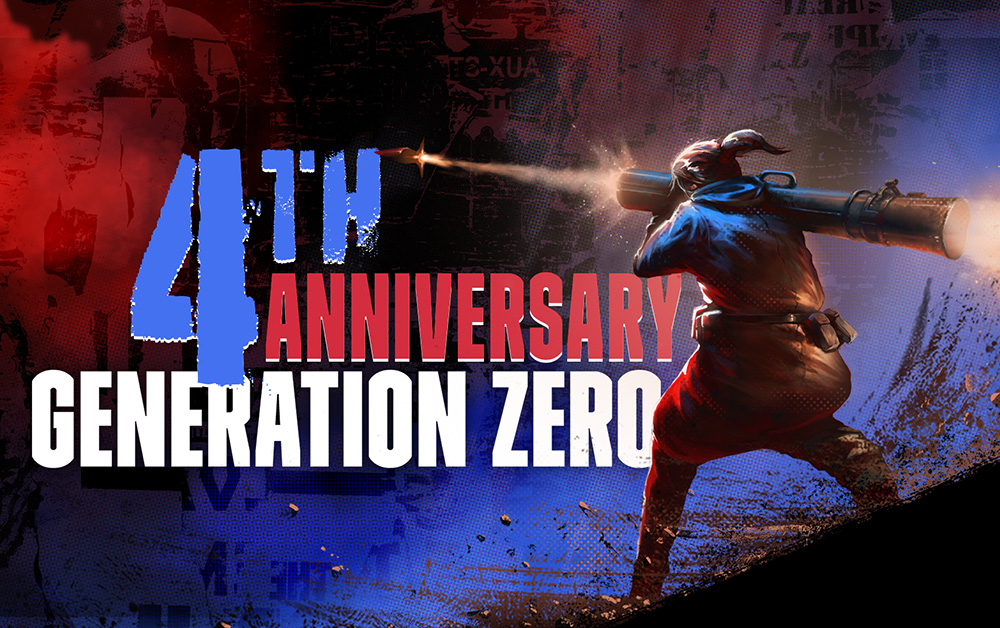 Survivors of the Apocalypse!
For exactly four years have you survived the evil machines' relentless onslaught.
You've grown from a teenager coming back from vacation to a bonafide badass and machine scrapper. You've acquired a fine arsenal of weapons, built a base of operations, and helped the human resistance movement grow from a few people in a basement into a serious militia that is not to be underestimated.
And most importantly: You've kept your spirit. For every machine that is sent after you, there's another bullet in your magazine, another grenade in your pocket, another medkit in your hand.
Your courage, power and resilience keep the hope of retaking Östertörn alive. Thank you for never giving up!

We've prepared a special Dev Diary to commemorate your collective achievements, have a look!


As Developers, we're incredibly proud of the game Generation Zero has become during the last four years. What started out as a passion project to kick off Avalanche Studios' self-publishing division Systemic Reaction has over the years grown into the perfect showcase for the creativity, dedication and effort our Dev Team puts into the game on a daily basis.
One of the ways this shows is in the many awesome additions we made, like new machines, new weapons, further story missions, crafting, bicycles and motorbikes, base assault and base defense.
All of these features have made Generation Zero even more enjoyable and replayable, shaping it into a powerhouse of an open world game that we enjoy coming back to as much as you do.
Another way that we show our love for our game is by working with you, our community, as we continue to push through the tough times. Of course, no project is without its challenges - every team faces hurdles during a game's lifetime. At times, we had to delay features due to schedule shifts, and occasionally annoying bugs slipped through the cracks when we released a patch. The pandemic that's been affecting everyone on the planet for the last 2 years also threw its fair share of wrenches in the works (If you know, you know). We know exactly how frustrating events like these are. What's important, though, is that we keep our eyes on the horizon, take in community feedback, and work towards ironing out the kinks. Since Generation Zero's release we've dedicated ourselves to improving your experience and we intend to keep it that way. There's no rest for the weary!
Since we're committed to continuing to bring updates with meaningful content, both free and paid, to the game, we're now working on creating a new public roadmap for the rest of 2023. The different building blocks are still in motion as of now, so we're not ready to share it quite yet, but we will let you in on it as soon as we can.
Celebrating in style

As some of you may have already noticed, you are now able to get the "Resistance fighter" apparel set (Hat, Glasses, Jacket, Shoes and Pants) from rivals as well as Firework boxes from any suitable loot source in the game!
Enjoy this day in a blaze of glory and look good doing it. You have all the time you need to collect these items as they will be available to snatch up until the 10th of April.
A heartfelt thank you

It's impossible to celebrate four years of a game's lifespan without dedicating a huge part of the celebration to the amazing community that kept it alive for all that time. Your continued interest and support is inspiring and means so much to us.
It is thanks to you that we can keep telling this story of machines and men that we love so much.
Nobody is better at turning machines into shooting practice than you!
Let's have a look at the strength in numbers you displayed over the years.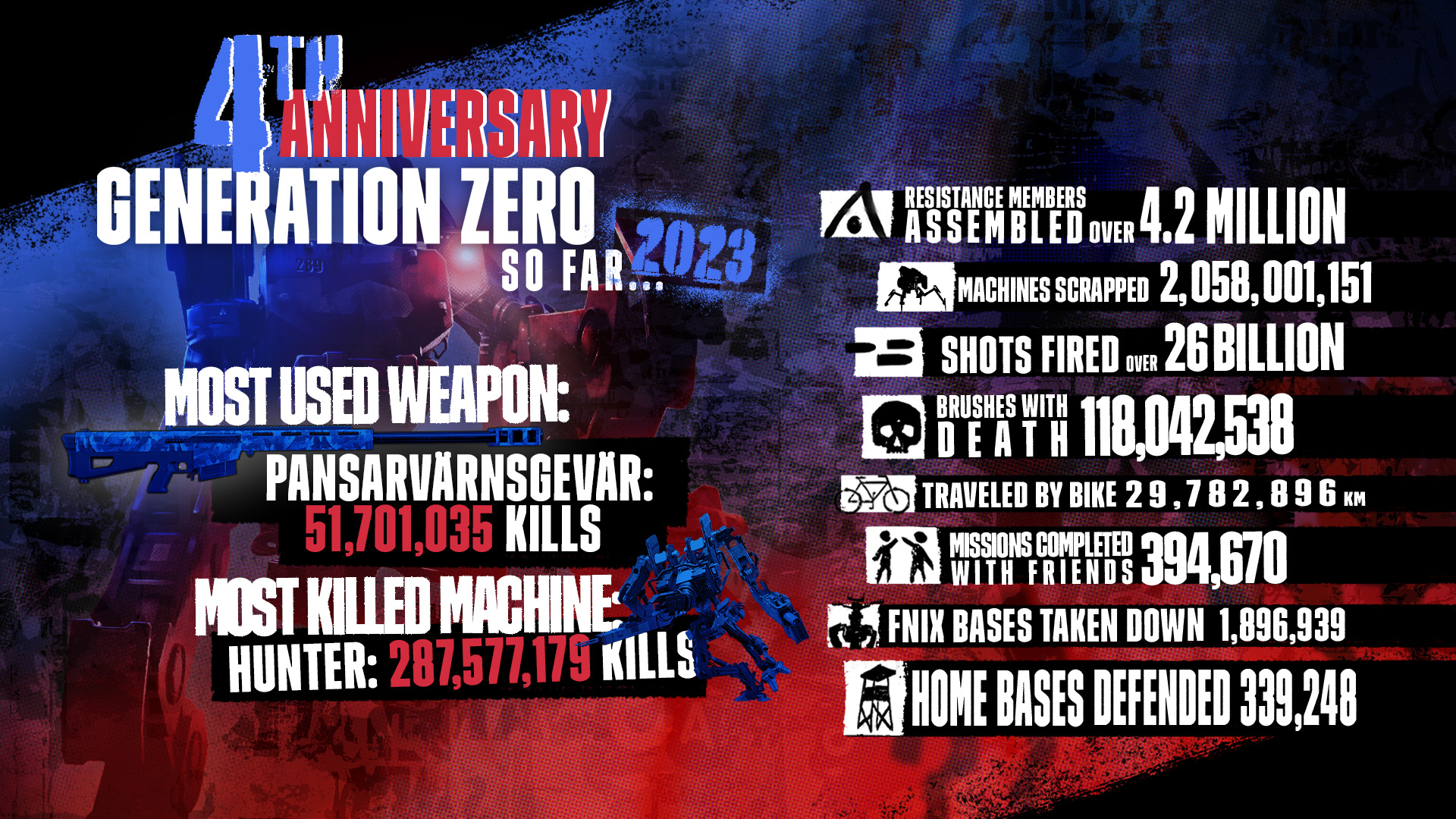 We couldn't ask for a more dedicated, fun, interactive, and attentive community. In fact, let's prove how attentive you are right now! This letter contains references to some of the many missions that show you the world of GZ. How many of them? Let us know on Twitter or on our Discord Server!
With much love, this is the Generation Zero Dev Team. Over and out.