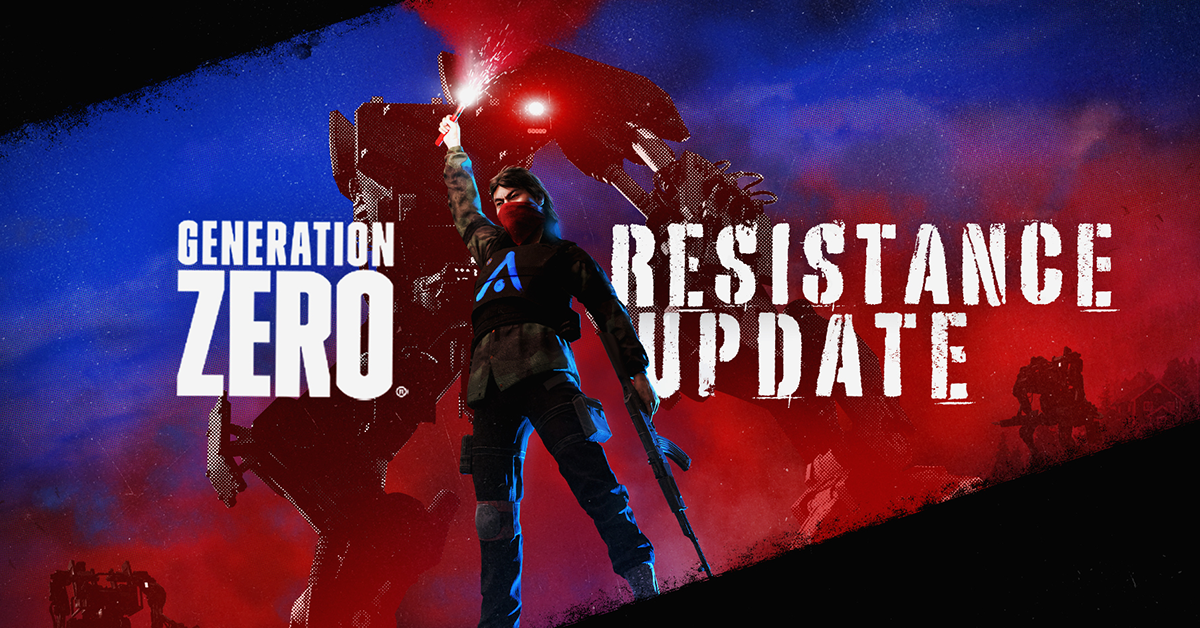 Generation Zero Celebrates 2nd Anniversary with Free Steam Weekend & New Surprises Ahead in Year 3
Resistance, the next major content update for Systemic Reaction's hit open-world action game, will arrive on PC, PlayStation®4 & Xbox One on April 27


STOCKHOLM -- March 18, 2021 -- Systemic Reaction is proud to celebrate the second anniversary of its original debut title, Generation Zero! The open-world stealth-action game, which pits players against sinister machines in an alternate-history 1980s Sweden, has sold over one million copies since its release in March 2019 on PC, PlayStation®4, and Xbox One. And now's the perfect time to dive in: Generation Zero is free to play on Steam until March 21 and available for 70% off as part of Steam's Avalanche Studios Group Sale!
Resistance Trailer: https://youtu.be/TJN46JHX0wU
Assets: https://bit.ly/3cILurW
"I can't believe it's been two years already. When we first released Generation Zero, we were a small team sitting in the 'indie corner' of Avalanche Studios trying something we'd never done before, our enthusiasm totally outweighing our experience as a self-publisher," says Emil Kraftling, Creative Director at Systemic Reaction. "But we stayed committed to building a game in collaboration with our fans, and two years later, it's grown with tons of content and a wonderful community, with even more to come!"
Beyond just a milestone, Year 3 will deliver an exciting new direction for Generation Zero that puts players on the front line of the battle against the machines, with a breadth of new features and content coming throughout 2021. As the game shifts from 1989 to 1990, new threats and world revamps will emerge, as well as the long-awaited introduction of base building. You'll also be able to engage in home base defense encounters, fighting off waves of enemies to survive. The next major content update, Resistance, will launch for free on PC and consoles on April 27.
Generation Zero has been a labor of love for the development team, which has continued growing it side-by-side with the community. The game has seen numerous updates and two story-driven expansions: Alpine Unrest and FNIX Rising. With more than one million players helping to drive the experience since it launched, Generation Zero is looking forward to yet another great year ahead!
For more info, visit Generation Zero's Steam page, and follow us on Twitter @GenZeroGame.
WE ARE SYSTEMIC REACTION
Small but fierce, we started as a group of veterans from within Avalanche Studios Group. Based in Stockholm and Malmö, we focus on crafting new and empowering games with unique settings. Drawing from our industry experiences, we want to create games that appeal to you and us — our players. We want to play in a sandbox that lets your creativity thrive.
Our focus is freedom, exploration, and a drive to create games like the ones that kept us up at night as kids. We've got Generation Zero launched and Second Extinction in Steam Early Access — with even more to come. Join us in the sandbox!
Media Contacts
Jerome Ortmann
Communications & PR Manager
Systemic Reaction
[email protected]
Kim Manuel Edra
Sandbox Strategies for Systemic Reaction
[email protected]
www.sandboxstrat.com