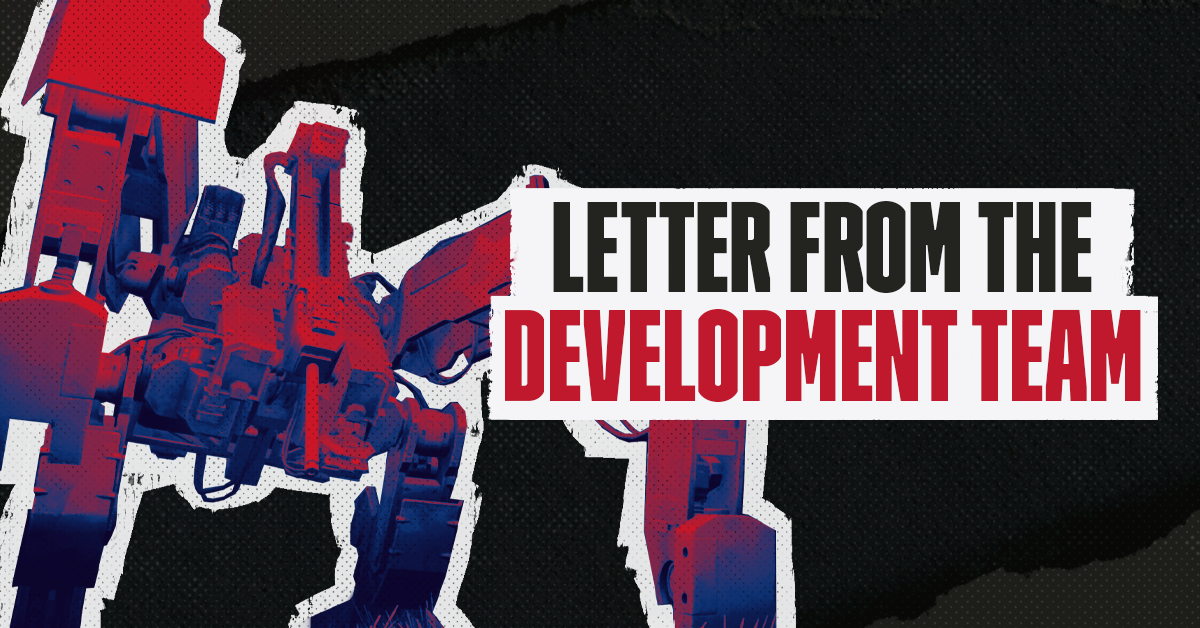 Hello again everyone! It's been a couple of weeks since we last posted a Letter from the Team, so there's a fair amount of fun stuff to cover this week!
It's been a while since we've had a letter for you, and that is something we are focusing more effort into changing moving forward. We really enjoy sharing our works with you, and the dedication of the community, kindness, and understanding you've all shown deserves as much!
Getting back to the overarching issue that has caused delays these past few months, and that is getting the Resistance Update out on Xbox so that we can continue with our promise of content parity moving forward with all of our updates. In short, we're still working on it and still maintaining the previously mentioned release window of November.
In favor of the transparency we plan to sustain, we would like to mention that we can only talk a limited amount about the current issues we're working with due to contractual reasons and respect of our working relationship(s) with the platform holders we work with. Conflicting, indeed, although it is sometimes the way we have to work to make sure we can collaborate as smoothly and closely as possible with our partners to get you all the much-awaited content that we've built and are still building!
Last we discussed the topic of the certification issues, we had a backlog of items we were chipping away at and were making good progress at the time. As the most recent round of certification we attempted failed, we had a slew of other issues that were still not caught and had some hard to reproduce steps to zero in on the underlying issues (and solutions). These were around friend invites and various bugs that crashed the game in different scenarios during "suspend and resume." The former ended up being a deeper issue, one which required a deeper investigation and longer chats about the potential solutions. We've since found a proper one and have even consulted with our partners at Xbox that it will indeed help solve the issues. This required us to rebuild some of the frameworks on which friend invites function and is a requirement for us to pass CERT.
We're going through a battery of tests this week and next to help shake out any remaining issues with the changes we had to make. We also reserved some time to make sure any of those bugs are resolved in time for the next scheduled time for certification.
That gets us up to speed with catching all the platforms up to each other, so what else are we doing in the meantime (for those that are not helping with fixing Xbox issues), and when will we see more content in the game? These are all great questions we've seen popping up since July!
For those that are not working on certification issues, they are looking ahead to the roadmap we had planned for 2021, and even beyond considering the delays we had this year. There are only so many people that can work on a group of issues to help with the current delay, so we've made sure that we got ahead of the curve where we could as well!
This means that the content update we've planned is quite close to finishing and is getting ready for its own testing gauntlet. Currently, it's intended to release as closely as we possibly can after we get the Xbox update out the door, and we, unfortunately, cannot put them both through the CERT process at the same time. We've definitely kept our community Beta testers busy, helping us work out the kinks with all this new stuff. They seem to like what they've seen, though, and they all deserve a big thanks for all the hard work they've put into getting our next big update polished and ready for everyone!
So what is up for next year? A lot! We have plenty of plans to keep Östertörn alive and evolving as we roll into 2022. Some of these plans you've already seen, and others we've kept a bit closer to ourselves, but one thing is for sure, it's going to be something for everyone in there! We'll be able to share more of that as we close in on Xbox getting up to parity, and we also have some spooky announcements for October. Stay tuned in the coming weeks to find out more!
-The Generation Zero Team